FOLLOW US ON TWITTER @SaveOurBucks
With less than 24-hours remaining until the start of the 2014 NBA Draft, we thought we'd give it a go with our own mock draft for your consumption. Note that we are only going out to the first eight picks, but we offer some predictions along with "fan hope" that the Bucks might be able to deal up for a second selection in the "Elite 8".
Before we begin, if any of you are in New York City for the Draft, be sure to hook up with your fellow Bucks fans tomorrow night to present our team loud and proud at the Barclays Center. Our spokesman Paul Henning left Milwaukee this morning to attend his first draft in person and we understand there are a few more of you on your way there. For those that have never attended an NBA draft before, it is a great 'bucket list' event for hard-core NBA fans.
Now onto the Mock Draft 1.0 !
#1. Cleveland Cavaliers – Jabari Parker
Much like the obvious romance that blossomed between Jim Halpert and Pam Beesley on the popular sitcom "The Office", the Bucks (Jim) and Jabari Parker (Pam) have been engaged in a heart warming courtship here the past week. It was exciting to see Parker visit with the national media in New York today while sporting a "Bucks Green" boutonnière on his lapel (see above).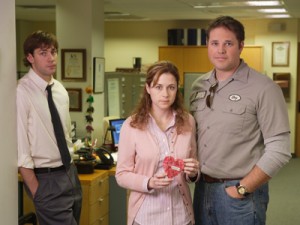 However unlike The Office, where Jim and Pam eventually got married and lived happily ever after, in our mock draft version we see Roy from the warehouse (Dan Gilbert) coming in and forcing Pam (Jabari) to move to Cleveland to get her away from Jim (Milwaukee). In the end we predict Pam will ultimately get divorced from Roy after an unhappy relationship that results in a few domestic disturbance calls to the police. For now though, we predict Parker will be a Cavalier at this time tomorrow night.
Ultimately Gilbert will select Parker because Gilbert is trying to rebuild his own legacy after LeBron James left Cleveland in 2010. Gilbert will view Parker as the most NBA-ready and desirable asset the Cav's could acquire in an attempt to lure LeBron back to Cleveland via free agency next week.
2. Milwaukee Bucks – Andrew Wiggins
For the past 18-months, this has been known as "The Wiggins Draft."  While there have been a few detours to Wiggins being the consensus #1 overall pick, we predict that the Bucks ultimately end up selecting him tomorrow night with the #2 pick. While this will be a let-down for fans hoping that Parker lands with Milwaukee, think of it as Jim Halpert ending up with Kate Upton. We really do not now how it will end, but it is going to be a fabulous first year or two. Wiggins has tremendous skills and potential that will ignite the Milwaukee community next year and in the years to come. We aren't endorsing Wiggins over Parker or vice-versa, simply predicting how we think tomorrow night plays out.
In an effort to promote these top draft picks, the NBA has scheduled the first Summer League game for Milwaukee to tip off at 7:00pm Central Time, the evening of July 11th against Cleveland. Thus Wiggins and Parker will duel once again right out of the gate only two-weeks from now. We aren't sure who will be playing for whom that night, but our gut tells us Wiggins is suiting up for Milwaukee.
3. Philadelphia 76'ers – Dante Exum
Exum may end up being the best player out of this draft, but neither Cleveland nor Milwaukee are going to chance picks 1 & 2 on him. We understand his upside and great character, but the lack of an NCAA resume has him drop to three where Philly scoops him up and worries about the fit with Michael Carter-Williams later.
4. Orlando Magic – Joel Embiid
Unless there were additional problems with Embiid's physical or his surgery last week, we think Orlando selects the big-man from Kansas here with the fourth overall pick.  Orlando GM Rob Hennigan has been on a mission to tank and collect young pieces over the past two seasons. We hear the job gets harder when you actually have to have your team produce wins, but Hennigan is allowed another year of development and the ability to gamble on Embiid with this selection. Embiid has fabulous talent, and this flyer may pay-off as for whatever reason the great big-men prospects seem to always start out in Orlando (Shaq and Dwight)
5. Utah Jazz – Aaron Gordon
The word from Utah is that Gordon had a great workout there and the Jazz are very high on him. He is a very talented player and the we predict the Jazz select him here.
6. Boston Celtics – Marcus Smart
One year ago Celtics GM Danny Ainge started his off-season by jettisoning his very capable coach, Doc Rivers, along with future Hall of Famers Paul Pierce and Kevin Garnett. The goal was to tank and be picking in the top three of this draft. Those plans were altered when first year coach Brad Stevens coaxed the Celtics to a few more wins than perhaps Ainge would have liked, resulting in the Celtics picking here at six. They still are going to get a very high quality player in Smart, who will now make Rajon Rondo expendable (see pick #8 below)
7. Los Angeles Lakers – Julius Randle
This is a slot that Bucks fans need to keep their eye on tomorrow night. There have been rumblings that the Bucks would like to move back up into the top-ten to add another young piece. Reports out of Los Angeles have been that the Lakers worked out Randle this past week and are very comfortable taking him at this slot, despite the fact that he will likely be out a couple months to correct a prior foot surgery procedure that did not heal properly. While this injury will scare some teams away, it hasn't scared Randle, who insists he will play in Summer League and may not need surgery.
The question will come down to whether or not the Lakers think they have a chance to lure LeBron James to LA. If so, this pick could be on the move for salary relief and another low salary veteran contributor. While a long-shot, potentially we could see Randle and Steve Nash coming to the Bucks in exchange for Brandon Knight and some other asset. Larry Sanders might fit into this scenario as well, but he is due $11 million next season and we'd presume the Lakers need to clear salary space to offer two high-dollar contracts — one for LeBron and one for whoever else he'd like to play with (i.e Carmelo Anthony, Chris Bosh, etc) thus the Lakers likely can't afford Sanders in that trade scenario. In our hypothetical above, Steve Nash would either have his contract bought out by the Bucks and released, or sent on to a third team such as Toronto for some small asset. He would not ever report and suit up for the Bucks, but merely be part of a salary dump on the part of the Lakers.
Do we think this scenario happens? Any move like this is an extreme long-shot, but it all depends on what the Lakers want to do. Randle would be an interesting fit if the Bucks previously selected Andrew Wiggins at #2.  It would be more problematic if the Bucks selected Jabari Parker. If that were the case, the Bucks would likely hope that Marcus Smart was still available at this selection.
8. Boston Celtics (via Sacramento) – Noah Vonleh
We will predict another trade possibility here. The internet has been ablaze the past two-weeks with indications that the Kings want veteran help and will trade this pick. Both Brandon Knight and Larry Sanders have been linked to the Kings via the rumor mill. We think however the Celtics have the best trade asset to acquire this pick in the form of Rajon Rondo.
Again, our trade predictions are extreme long-shots as most trades discussed never actually materialize, but we do think that much like the Lakers, the Celtics and Danny Ainge are at a crossroads with Rondo. Given Rondo's age and mileage, he's going to be a depreciating asset that a rebuilding team can't afford to have sit around. Ainge could wait and hope to pull out some miracle sequence of deals for veteran stars to compliment Rondo, as he did with Paul Pierce in 2007, but we do not see lightning striking twice. In the end, Ainge will have to ultimately monetize the Rondo asset in the next year. We think it possible that he takes a known quantity such as the 8th pick in a loaded draft versus the unknown draft position of future first round pick from a different team in a later draft of unknown quality.
So there you have it, our predictions for the "Elite 8" tomorrow night, but while we are at it, we will add in one more Bucks prediction, and that is that Ersan Ilysova will be heading west to either Oklahoma City or Phoenix for one of their later first round draft picks. Other players and second round picks may be involved to balance things out, but if the Bucks come away with Parker tomorrow night, the logjam in the front-court will only get worse. Therefore we will endorse the current belief that Ilyasova will be dealt tomorrow in some variation of a deal.
Draft Parties Tomorrow Night!
If you want to watch the Draft with fellow Bucks fans, we know of at least three great options. First and foremost is the Save Our Bucks draft party tomorrow night at the Upper 90 Sports Pub downtown in conjunction with the folks at Bucksketball and Urban Milwaukee. More details are below.
If you'd like to check out the Bucks draft while attending Summerfest, the team is holding their own official draft party on the Summerfest Grounds with big-screen TV coverage.
Finally, if you live in the western suburbs and do not want to drive into the City tomorrow night, our friend Steve "Sparky" Fifer and 1250am WSSP plan on having their own remote broadcast and draft party from the Cue Club in Waukesha.
It would appear the Bucks can't lose tomorrow night given the talent in this draft and the particular picks the Bucks hold. It should be a wonderful night for all. And remember, Winning does Take Balls! Go Bucks!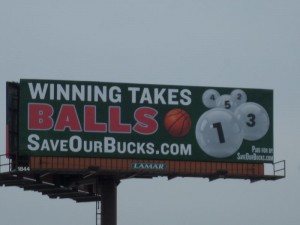 Draft Party Reminder
WHAT: SaveOurBucks.com Draft Party in conjunction with Bucksketball and Urban Milwaukee
WHEN: Thursday, June 26th starting at 5:30pm
WHERE: Upper 90 Sports Pub 322 W State St, Milwaukee, Wisconsin 53203
WHY: NBA Draft. We will be celebrating!
Celebrate what's sure to be a momentous night in Milwaukee basketball history at the Upper 90 Sports Pub with Bucksketball, Urban Milwaukee and Save Our Bucks. You'll drink drinks, win prizes, talk Bucks and bask in the thoughts of greatness of Milwaukee's number two draft pick.
Check out the party Facebook page here for more details!