FOLLOW US ON TWITTER @SaveOurBucks
Last week's resignation by John Hammond to take the Orlando GM job was viewed as a shocker by the local media and a portion of the fan base. Many lamented the loss of the man who drafted Giannis and who they were convinced would take the Bucks to The Finals in the years ahead.
Meanwhile another group of fans were relieved to see Hammond move on after nine years as GM. A period in which the team failed to win a playoff series or post a 50-win season, two common benchmarks of NBA success.
How do two subsets of fans of the same team have such different perceptions of the Hammond era? It comes down to his complicated tenure which can be summed up in two words: Giannis and Greivis.
Success has many fathers
We know the story of Giannis. He's a transcendent star who made the leap this past season to one of the top players in the league. Was Giannis Hammond's discovery? Maybe, maybe not.
Various media accounts including interviews Hammond has done have credited the Bucks European scout Jacinto Castillo (and perhaps another Euro scout) along with Dave Babcock as being the people that initially discovered Giannis. Others believe that newly hired head coach Larry Drew had a hand in things, claiming that Drew updated the Bucks on Atlanta's plans to draft the Greek Freak based on Drew's participation in the Hawks scouting process the prior year. And in the spirit of it "It Takes a Village", a new father showed up last week as some Orlando writers started linking Jeff Weltman as being a big part of the selection.
In the end though Hammond made the pick, and for that he deserves tremendous credit. He acquired the Bucks best all around player since Sidney Moncrief and the first Buck all-star since Michael Redd in 2004. The connection between Hammond and Giannis is perhaps the single greatest achievement of Hammond's career and the reason many Bucks fans are concerned about his departure to Orlando.
Failure is an orphan
Now we come to the tale of Greivis Vasquez. Last month the Bucks appeared to have Toronto on the run as they raced out to a 2-1 playoff series lead. If not for an insane shot by Kyle Lowry ("Bang!") the Bucks could have been up 3-0. The series took a 180 degree turn in game four as Toronto made two critical adjustments: Norman Powell was inserted into the starting lineup and Serge Ibaka was shifted to starting center. Both adjustments paid off handsomely as Ibaka and Powell confounded the Bucks on both ends of the court. Three losses later the Bucks were bounced from the series.
Toronto was able to acquire Powell and Ibaka from the fruits of the ill-fated Greivis Vasquez trade the Bucks made on draft day in 2015. In that trade the Bucks sent out the future first round pick they had acquired ten-months earlier from the Clippers along with their 2015 second round pick. Toronto used that second rounder to draft Powell who shot 10 for 11 from three point range in the series. The Clippers first round pick was used along with Terrence Ross to acquire Ibaka in a mid-season trade with the Magic.
Ironically just as Hammond's best selection (Giannis) was having a breakout playoff performance, the Bucks assets sent out for Greivis Vasquez were the difference makers for Toronto. A key Milwaukee deficiency was the overall poor guard play during the series. Meanwhile guard Vasquez was sitting at home commenting on the series for the Toronto media after departing the league following an abysmal injury filled season with Milwaukee in 2015-16.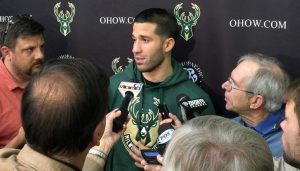 Who was the father of the Vasquez trade? We have no idea and paternity tests are hard to come by. The conventional wisdom was that Jason Kidd, fresh off first year success in Milwaukee, wanted a veteran point guard to mentor and compliment Michael Carter-Williams. However, there have also been reliable rumblings that Hammond was the one who liked Vasquez and advocated acquiring him. There has also been spun a scenario whereby Kidd wanted Vasquez and instructed Hammond to acquire him but was later very upset when he learned how much Hammond paid by giving up not just one but two draft picks. All for a journeyman guard that by many accounts the Raptors wanted to salary dump that offseason.
And therein lies the Hammond legacy – complicated. Perhaps the answer to who was responsible for the Vasquez trade debacle was provided last week when Bucks owners Marc Lasry, Wes Edens and Jamie Dinan ("LED") allowed John Hammond to leave unimpeded for Orlando.
Was Hammond given enough power as GM?
Throughout his tenure with the Bucks there were many times where one sensed Hammond didn't have full authority. In the Kohl years you had beneficial trades crafted by Hammond such as the proposed Ramon Sessions/Joe Alexander for Mike Conley swap that was perhaps vetoed by Herb Kohl in January 2009.
Yet how many teams are more than ready to part ways with the #8 overall lotto selection (Alexander) by the following January of the player's rookie year? We've heard that Hammond has blamed the Alexander pick on the fact he had just taken the Bucks job and wasn't fully prepared. That rationale seems strained though since Hammond joined the Bucks more than two-months before the draft and presumably had some scouting background on the top prospects.
One area where Hammond has a legitimate case involves the hiring of current head coach Jason Kidd. That hire was made by owners Marc Lasry and Wes Edens. The sight of Hammond, Larry Drew and Jabari Parker at Summerfest the day after the 2014 NBA draft was reminiscent of the news conference in May 2005 when then GM Larry Harris had a press conference with Terry Porter where he affirmed Porter would remain as head coach. They would "sink or swim" together. In Porter's case, he later sank alone at the behest of an owner who wanted his own "upgrade", independent of what the GM might have wanted. If a GM is not allowed to select his own coach, you almost have to disconnect them from accountability for the on-court product.
Nonethless there were plenty of high profile misses that many in the organization said were of Hammond's own making. While the Giannis and Malcolm Brogdon draft picks along with the Tony Snell for Michael Carter-Williams trade were top notch, the team faces an uncertain summer of 2017 as salary flexibility is compromised by the expenditure of $122.5 million in free agent contracts for Miles Plumlee, Mirza Teletovic and Matthew Delavadova along with the potential free agency of Greg Monroe and Tony Snell.
Hammond was able to dump the Plumlee mistake on Charlotte at midseason. However should Hammond get more credit for that move versus criticism for handing out the ill-conceived contract in the first instance?
One reason Hammond took so much flack from certain quarters of the fanbase was because a number of his moves were inexplicable on the day they were made. High profile examples were not only the Plumlee contract but Drew Gooden, Corey Maggette and Stephen Jackson among others. Players who all came to the team with a great deal of known baggage at the time of acquisition along with terrible contracts.
Then there is the Tobias Harris saga. Dealt at the trade deadline in 2013 for soon to be free agent JJ Redick, the Harris deal was supposed to be part of a larger set of moves that day, whereby the Bucks 2013 number one pick (later used on Giannis) was to be outgoing to Atlanta as part of a package for Josh Smith. Front office insiders at the time said Hawks GM Danny Ferry rejected the long anticipated deal at the last minute.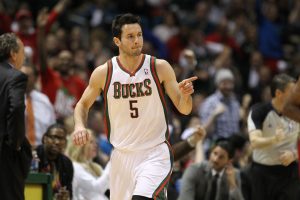 At the start of the July 2013 free agency period, Hammond had a chance to salvage the Tobias deal as the Clippers were in hot pursuit of free agent Redick but did not have the salary cap space to meet his demands. To recover some type of asset for Redick, the Bucks participated in a three-way sign and trade whereby Redick and Jared Dudley went to the Clippers, Bledsoe and Caron Butler went to Phoenix and Milwaukee received two second round picks for their troubles. Ben Golliver of Sports Illustrated gave the Clippers an "A", the Suns an "A+" and the Bucks a "D-" for the deal.
What riled the fan base more than anything was the belief that the Bucks could perhaps have acquired Bledsoe for themselves if they had they been willing to take on Caron Butler's contract. Conventional wisdom was that the Bucks were concerned about Bledsoe's impending free agency, and preferred to keep the cap space to use on other players. Adding insult to injury, the Bucks ultimately DID take on Butler's contract, acquiring him in trade only eight weeks later in a salary dump by Phoenix.
How does this tale come back to Greivis? Ironically a year after the Redick sign and trade, Jared Dudley was struggling in Los Angeles and the Clippers wanted to dump him for salary purposes. John Hammond was ready and willing to take on Dudley's contract and a future Clippers first round pick for his troubles. The same Clippers first round pick Hammond would send outbound a year later to Toronto for Vasquez.
The 2014 Dudley trade was brilliant as the Bucks not only got Dudley and the draft pick but also were able to dump the injured Carlos Delfino contract on the Clippers. But that begged the question of why Hammond signed Delfino to a free agent contract the year prior, when he still had a significant injury. The 2013 free agency money spent on Delfino, ZaZa Pachulia and OJ Mayo was salary cap room Hammond expended rather than simply take on Caron Butler's contract in the first instance and perhaps acquire Eric Bledsoe in the process. As we all know, Bledsoe went on to a breakout year for the Suns.
Of course that 2013 off-season also had a huge Hammond victory. After the Bucks were unable to come to an agreement on a new contract with Brandon Jennings, Hammond dealt him to Detroit in a sign and trade which netted the Bucks Brandon Knight and Khris Middleton.
Knight would share the backcourt with the newly acquired Mayo who ended up playing himself out of the league two years later. A common defense of Hammond's tenure is that all GM's make a mistake or two. Hammond's however seemed to bloom like weeds even if they were later hit with a heavy dose of Roundup.
Salary cap issues were prevalent
Certainly the draft was Hammond's strong suit. Over the years he generally was able to pluck useful players from whatever position the Bucks were selecting from. There were few busts outside of the Alexander pick. There was a sense however that his excellent draft skills were negated by an inability to understand spatial relationships as it related to the salary cap and how future contract liabilities could cloud the team's future.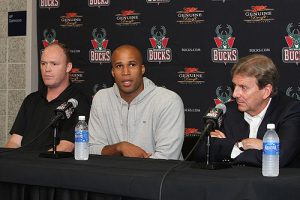 Hammond started his Bucks career off with a bang, acquiring Richard Jefferson on draft day 2008. Jefferson carried with him a contract that still had three years and $43 million left on it. A huge liability at the time considering his declining play and the max contract already on the books for Michael Redd. Due to the Jefferson contract, the Bucks quickly found themselves in a salary cap vise without payroll flexibility to retain Ramon Sessions or Charlie Villaneuva who were having breakout seasons. Hammond had to start working the phones in an attempt to pitch salary over the side. He again put his lotto pick Joe Alexander on the trading block, this time to entice New Jersey to take Luke Ridnour's contract off the Bucks hands and open up payroll room for the upcoming summer. The Nets declined the deal as outlined by Frank Madden in the early days of BrewHoop. Ridnour (and his contract) had also been acquired by Hammond just six-months earlier when Mo Williams was shown the door to Cleveland. Is your head spinning yet on trying to keep track of all these moves? You're only halfway through this piece, assuming you make it to the end!
Hammond was later able to move Jefferson to the Spurs in June of 2009 for a series of smaller contracts and players. Then a writer for ESPN, John Hollinger summarized the deal this way:
"So it's not such a head-scratcher after all from the Bucks' side: They basically just traded Jefferson for Villanueva and Sessions. They never should have put themselves in this position in the first place, but it was a pretty crafty escape maneuver."
If Hollinger's take sounds familiar to the scramble to dump the Plumlee contract on Charlotte, it should. For many Bucks fans it was akin to the initial notes of "I Got You Babe" blaring from Bill Murray's clock radio each morning in the movie Groundhog Day.
In radio interviews early in his tenure, Hammond would at times sound confused about the intricacies of restricted and unrestricted free agency. Most notably in the Spring of 2009 when in an interview with Steve "Sparky" Fifer, Hammond said the Bucks likely would not be able to retain Sessions since he was an "unrestricted free agent." This was not true as Sessions was a restricted free agent which would allow the Bucks to match any contract offers from other clubs. Was the comment a simple brain freeze on the part of Hammond at the end of a long day? Perhaps. Or perhaps Hammond wasn't able to always focus on the intricacies of the NBA's collective bargaining agreement.
Hammond failed to use restricted free agency to the Bucks advantage when Larry Sanders and John Henson were both awarded lucrative $44 million dollar contract extensions after their third seasons in the league rather than waiting a year to see whether or not they could prove their success was sustainable. Waiting wouldn't have hurt that much since both players would still have been restricted free agents, allowing the Bucks to match offers from other teams.
A segment of Bucks nation is concerned that Hammond is leaving at pr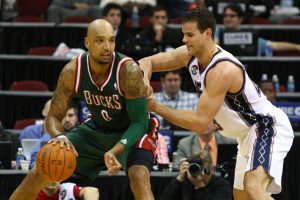 ecisely the wrong time as the team has turned things around under Hammond acquisitions Giannis, Middleton, Maker and Brogdon. That fear may prove to be warranted. That said, it looked like the team had turned things around after the Fear the Deer season in 2010. The summer following Fear the Deer, the Bucks made the following off-season moves:
-Committed over $100 million dollars of future payroll to Corey Maggette, Drew Gooden and John Salmons.
-Drafted Larry Sanders in round one but also possessed four second round picks. One pick (Jerome Jordan) was dealt to New York for a future second, one pick was dealt to Sacramento for John Brockman and the other two were used on Darrington Hobson and Tiny Gallon.
-Traded a 2012 second round pick for Chris Douglas-Roberts
-Lesser free agency dollars spent on bringing in Earl Boykins and Keyon Dooling.
While it is accurate to laud Hammond for the Giannis pick, the rest of his tenure here was a complex maze of moves such as the 2010 off-season noted above. Were some of these moves dictated to Hammond by ownership? No question some were. That said we've seen the same pattern from Hammond under two different ownership groups – an inability to shape a coherent plan and vision for the team and not being able to properly value player skills in relation to their contracts.
Ironically cap management and a great understanding of the collective bargaining agreement is one of Jeff Weltman's strengths and a reason why the Weltman/Hammond pairing could succeed in Orlando.
Scoreboard
Only those within the inner core of the Bucks organization know exactly which things Hammond was responsible for and which things were done at the directive of ownership or a more powerful head coach. While the debates will continue in the years ahead, there is one objective bit of criteria that is hard to ignore: The Bucks overall performance during the nine seasons Hammond had the title of general manager.
Hammond departed with a regular season record of 315-407 (.436%). To our knowledge the only other NBA GM who had a tenure of nine years or greater with the same team without a 50-win season or playoff series win by his club was Elgin Baylor of the Clippers. Despite the Bucks current promising core of players assembled by Hammond, the team still faces a problematic offseason in which they've got material salary pressures and large holes to fill in the lineup.
There wasn't much discussion in the local media of Hammond's failure to win 50-games or a playoff series during his lengthy tenure. Why? Perhaps because Hammond was a wonderful person of high character. He was friendly, outgoing and always trying to help fans, the media and people in the community he'd encounter.
Don't shed any tears for Hammond as his life his been a massive success. He's made millions of dollars, participated in the Pistons 2004 championship and now heads off to Orlando with a five-year contract. In a sense Hammond was the Bucks analog to the Packers Bart Starr during Starr's also nine year tenure as GM and coach in Green Bay. Starr's teams posted a record of 52-76-3 (.408%) and only made the playoffs once. Starr lasted so long with the Packers partly due to his tremendous character as a person. It was hard to criticize Starr during his tenure as Packers coach and GM because he was so likeable, as was Hammond.
Patience
The NBA is a cutthroat league. To be perennial contender you need to consistently outwit the other clubs via trades, free agency and the draft. Hammond was never able to consistently do that across all three platforms.
On the "Big Show" last week on 105.7 FM, co-host Gary Ellerson called Hammond "an above average general manager." We can quibble over the specifics but after accounting for the interference Hammond would encounter from ownership that characterization felt about right. That said with 30 teams in the NBA, an above average GM could be ranked 14th out of 30. That isn't going to cut it for the Bucks. They needed an upgrade over Hammond.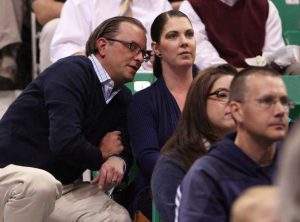 Many believed that recent front office hire Justin Zanik would step into the general manager position but according to reports the Bucks are instead going to embark on a thorough search for a new GM. This approach is encouraging and hopefully the team will be able to locate a highly talented individual. That person may end up being Zanik who is being considered for the position.
Ideally the hiring of a new GM should have occurred in May of 2014 when ownership arrived but we'll grant LED a mulligan as they were solving challenges on many fronts, especially the need to design, build and secure funding for a new arena within a two-year period mandated by the league.
Most are hopeful now that the Bucks will hire a top tier candidate who can be fully empowered and help to take the team to the next level. While the draft is fast approaching it is better to get the GM  decision right than rush the process. With Giannis on the roster the future should be bright, but as blogger Ben Thompson noted:
I believe Bucks' GM pick will be most consequential decision of the current Bucks' ownership group. This is how I hope they think about it.
The Bucks have to stick the landing on this one.
Go Bucks!
Your SOB Editor aka PaulPressey25 on Twitter