FOLLOW US ON TWITTER @SaveOurBucks
With today's 12-3 vote in the Milwaukee Common Council, the Bucks arena plan has now cleared its last legislative hurdle. All the major stakeholders involved have approved the measure and we head into the design and development phase.
We want to thank the State, County, City, Bucks organization and taxpayers for negotiating this exciting partnership that will secure the future of the team in Wisconsin for many years to come. We also want to thank you the fans who supported the project via the many letters, emails and phone calls to your respective elected officials over the past six-months. There were a few points along the way where things got a bit dicey and you helped stiffen the resolve of the politicians as to the benefits of this project. We hope this project can be a case study for bipartisan cooperation as political leaders on both sides of the aisle took courageous steps that made the new arena a reality.
Also take some time in your day to remember two partners we all worked with in this process. Marc Marotta, former chairman of the Bradley Center board and Don Walker, longtime reporter with the Milwaukee Journal Sentinel. These two were as involved as anyone with the new arena but unfortunately were taken from us unexpectedly last Spring at too young an age. We know somewhere they are both smiling upon today's events.
Most importantly we want to thank Senator Herb Kohl. This website began two years ago with one important goal and that was change. Change in the status quo. As fans we knew that our organization was living on borrowed time and something had to happen to set things on a different path. While this site was not without controversy, our goal was to initiate a much needed conversation on the future of the team.
Senator Kohl reflected on the situation and made some critical decisions that made today possible. He located a top tier ownership group and creatively transitioned the team in such a way that ensured the franchise would remain in Milwaukee. Along the way he made sure the new seeds he planted would take root with his $100 million contribution for the new arena. He can now enjoy the Bucks future in Milwaukee and his personal legacy in securing that future for a new generation of Bucks fans.
With today's vote, we will wind things down here and start to enjoy the actual basketball games soon to come. This website will keep going with the occasional tweet or update during the construction process. As a word of caution, projects this large always seem to hit a few snags. So be prepared for a lawsuit, construction delay or political squabble as specifics of the arena lease or other issues such as the potential closing of 4th street are decided in the months ahead. This is a normal part of the process with a project this large and with this many stakeholders involved.
On a personal note, as your SOB editor I want to thank Paul Henning and Paul Cousins who played huge roles that helped make the SOB movement possible. Paul Henning who most of you already know was our spokesman and the key driver at endless meetings, rallies and talk show appearances to keep the momentum going. He was the man on the ground helping to tie all of you together in a relentless effort to Save Our Bucks.
Less known is Paul Cousins, a Bucks fan from Australia who runs a website development company and has donated countless hours of time, expertise and hosting capacity for everything that SOB has done online. I knew when this thing started we needed a website that wasn't flashy but at the same time helped present our message professionally and reliably. Paul Cousins continues to donate his efforts there. Our goal is to get him over here to the States for a Bucks game in the new arena after it opens.
Finally a thank you to the Milwaukee Bucks online com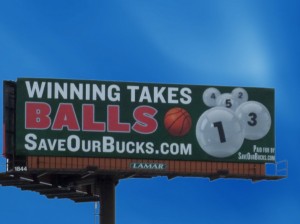 munity at over at the RealGM Forums. The SaveOurBucks.com website germinated from ideas stemming from long discussions that took place in the RealGM forum over a period of years. The posters over there helped at every step of the way in driving this movement, including the creation and funding of as Darren Rovell called it "Bucks fans controversial billboard". Kudos to all at RealGM who stepped up and assisted whenever and wherever necessary.
Training camp begins next week and the first exhibition game is only two weeks away. The team enters the season with arguably as much momentum as any time since the 1980's. The new ownership group has done a magnificent job in transforming the organization both on and off the court. We are thrilled that we can now 100% emotionally invest in the Bucks knowing they will be in Milwaukee for generations to come!
Go Bucks!
PaulPressey25
@PaulPressey25
Your SOB Editor