FOLLOW US ON TWITTER @SaveOurBucks
You know you felt it deep down inside. Just admit it. Would the Bucks make the right selection with the #2 overall pick next Thursday? What if they took Jabari Parker and he didn't pan out as expected, while Andrew Wiggins became a star with Philadelphia?  Or Cleveland shocked the NBA world and selected Wiggins, leaving the Bucks to make a decision on Joel Embiid and his back? Or the Bucks passed on Parker and he became the next Grant Hill, while Wiggins struggled with becoming the next Gerald Green. Those are natural thoughts and all part of being a fan of a team that hasn't had much luck or made many right decisions over the past two-decades.
As many of you now are aware, Joel Embiid is having surgery tomorrow for a navicular fracture in his right foot. The injury was discovered by Cleveland doctors examing his films after he worked out for the Cavaliers last week. The general consensus from the internet news reports tonight is that the surgery has a 4-9 month recovery time, has a decent chance of recurring and is harder for big-men to recover from given the large amount of mass they carry as compared to smaller players such as guards or small forwards.
Here are some answers to common questions stemming from the Embiid news.
What Does This Mean for The Bucks?
Simple. The Bucks no longer have to make a choice next Thursday night. They will take either Andrew Wiggins or Jabari Parker, whoever is left after Cleveland chooses one of them. The decision process has been taken away from the Bucks. No more civil war this weekend at backyard barbecues with uncles fighting with nephews, sisters v. brothers, fathers v. sons over whether the Bucks should select Wiggins, Parker or Embiid if he dropped.
For Bucks Fans who were worried about the team making the wrong choice, that fan angst over the draft should now dissipate. It is out of your control (although it never was in our control to begin with.) Spend the next week watching YouTube mix tapes of Jabari and Wiggins, while enjoying it all, knowing the Bucks will get one of those two and you won't have to fret over whether they made the right decision. Then further enjoy Summer League starting July 11th in Las Vegas. If Wiggins is drafted by Cleveland and explodes for a 37-point outing, know that the Bucks never had a chance at him. Ditto for Jabari if Cleveland were to select him #1 overall.
Why Won't the Bucks Consider Embiid?
ESPN's Chad Ford has put the potential draft picks into tiers. Here is how he describes "Tier 1" in relation to the 2014 draft:
"This category is usually reserved for guys who are sure-fire All-Stars or "franchise" players. Since 2009, only (Blake) Griffin, John Wall and (Anthony) Davis have been ranked in this slot. This year, there are three players in Tier 1 — as many as there have been in the last five years combined. All of them received Tier 1 votes from every GM, exec and scout I surveyed. So if there is any consensus out there, it's that there are three really great prizes in this year's draft."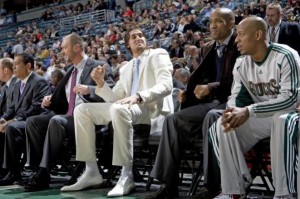 And of course the three players Ford was referring to are Embiid, Parker and Wiggins. With two healthy tier one players left, it would be extremely unlikely that the Bucks would pass on one of them to select Embiid. The opportunity cost for the Bucks to take Embiid now is far too high. The Bucks have tremendous forward momentum in the community and can't gamble that momentum by taking a player who likely only takes the court a year from now.  Add to that the fact that Bucks fans dealt with multiple years of watching Andrew Bogut on the sidelines in street clothes and Milwaukee has had too much experience with injured big-men.
In the long-run, could Embiid still turn out to be the best player from this draft? Of course. But the risk/reward calculus is much different if you are Utah deciding on Embiid or Aaron Gordon versus the Bucks having the option of Parker or Wiggins.
Wait—What About Dante Exum?  We Need To Think About Him. Maybe Trade Back w/Philly and select Exum?
Three years from today, Dante Exum may be the best player from this draft class. But as with Embiid, right now Exum is a gamble. The Bucks do not have a season of NCAA data on him. While the Exum idea sounds nice in theory, if you are going to gamble on Exum, then you might as well also consider gambling on Embiid then. We can all talk and tweet about Exum, but it isn't going to happen with one of Wiggins and Parker still guaranteed for the Bucks right now.
So Where Does Embiid Land?
Assuming nothing worse comes from Embiid's surgery tomorrow, he should be drafted somewhere between selections four and six. Philadelphia already has their big-man project in Nerlens Noel, so they likely select Exum. Orlando would be a very logical spot for Embiid, if Magic GM Rob Hennigan is granted permission by ownership to "tank" yet another season while waiting for Embiid. Utah is also a possibility for Embiid, although they too are another team that arguably needs to start trying to win versus tanking again, but they could select him.
Boston at the sixth selection is likely Embiid's backstop if he isn't selected by then. Danny Ainge tried to tank hard this past season by trading away Doc Rivers, Kevin Garnett and Paul Pierce before the season even began. He almost succeeded in getting a top three pick, but some good coaching by Brad Stevens kept the Celtics moderately competitive this year.  Ainge likely takes Embiid and doesn't look back. The Celtics can afford to shelve Embiid for a year, while they have another development year.
And yes, unfortunately we will have to suffer Bill Simmons tweeting about Embiid for the next decade perhaps, but we can't worry about that now. We've got a team to rebuild and a new arena project to launch. We'll have plenty to cheer about ourselves, and we can celebrate that future at the SOB draft party next week!
Go Bucks!

Draft Party Reminder
WHAT: SaveOurBucks.com Draft Party in conjunction with Bucksketball and Urban Milwaukee
WHEN: Thursday, June 26th starting at 5:30pm
WHERE: Upper 90 Sports Pub 322 W State St, Milwaukee, Wisconsin 53203
WHY: NBA Draft. We will be celebrating!
Celebrate what's sure to be a momentous night in Milwaukee basketball history at the Upper 90 Sports Pub with Bucksketball, Urban Milwaukee and Save Our Bucks. You'll drink drinks, win prizes, talk Bucks and bask in the thoughts of greatness of Milwaukee's number two draft pick.
Check out the party Facebook page here for more details!