FOLLOW US ON TWITTER @SaveOurBucks
We've noted in the past that we do not view this site as your daily source of Bucks news, as there are many other great outlets that cover events on a daily basis. However today we stumbled upon a nugget that Bucks fans may want to check out — a podcast interview just completed between ESPN Draft analyst Chad Ford and David Locke, the radio voice of the Utah Jazz. The podcast link and some interesting nuggets contained therein are discussed below.
In the meantime, with only one week to go, have you made your plans for draft night? If not, we've got a great option for you to consider. Here are the details:
WHAT: SaveOurBucks.com Draft Party in conjunction with Bucksketball and Urban Milwaukee
WHEN: Thursday, June 26th starting at 5:30pm
WHERE: Upper 90 Sports Pub 322 W State St, Milwaukee, Wisconsin 53203
WHY: NBA Draft. We will be celebrating!
Celebrate what's sure to be a momentous night in Milwaukee basketball history at the Upper 90 Sports Pub with Bucksketball, Urban Milwaukee and Save Our Bucks. You'll drink drinks, win prizes, talk Bucks and bask in the thoughts of greatness of Milwaukee's number two draft pick.
Check out the party Facebook page here for more details!
Is Jabari Parker the next Glenn Robinson or Danny Granger?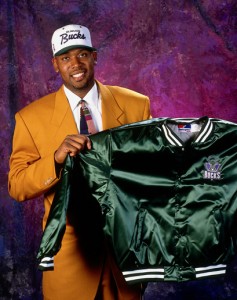 We encourage you to listen to this 28-minute podcast where Jazz radio voice David Locke interviews Chad Ford regarding the next week's draft. Locke and Ford spend a great deal of time talking about Joel Embiid and Jabari Parker, two of the "big three" in consideration for the Bucks selection.
Listen to the podcast and formulate your own takeaways. From our vantage point, both Locke and Ford seemed to place Jabari Parker at perhaps a slight level below Embiid and Wiggins. Here was a key interchange from the podcast:
David Locke: "I've done my draft breakdown on Jabari, I think he'll score 20 points game in the NBA, and be the first guy to do it, and there are not many guys who can score 20 points a game, so I hope people understand exactly what I mean. I think he can really score……. I was left wanting more Chad. I watched him and I kept feeling a 'but' statement. I finally figured (it) out by the end. I felt as though it's not the defense thing everyone else talks about. I never saw him catch and swing a pass. I never saw him make the play to help a teammate. I actually thought his rebounding was really pretty poor if he was ever in any traffic. I was concerned by the time I was done that he was Glenn Robinson. That he'll score twenty points a game in the NBA and not help you win. Fair or unfair?
Chad Ford: "I think it's pretty fair. That's the comp I've been using all year, is that Glenn Robinson, and I know there are younger NBA fans that probably don't remember the 'Big Dog' but coming out of college the Big Dog was the consensus number one pick in the draft, went ahead I believe of Grant Hill and Jason Kidd in the year he came out, and he was a scorer and Jabari is going to be a scorer, because he can score in multiple ways. If the defense tries to take away one thing from him, he has other ways to score, and he's aggressive, he goes out there and he looks for his shot…..and I think he'll go hard that way. But I think that he's a bit one-dimensional……….and I have concerns defensively about him.
Ford goes on to speculate that Jabari's body is one that won't get leaner and quicker, rather that his body is likely going to fill out and get stronger and his ultimate position may be as a "4" down the road. Ford cites Danny Granger as another comp for Jabari and also mentions that ESPN's Kevin Pelton puts Parker's best statistical comparison as Luol Deng and closes with "and those guys aren't NBA superstars"
Food for thought for Bucks fans looking at this all important pick next week.  Fair or unfair commentary by Locke and Ford?  In fairness to Parker, these comparisons are nothing new, and Ford has indeed praised Parker on many other platforms in the past.
With Parker now being a common mock draft selection for the Bucks with the second overall pick, we thought this podcast content was worth putting into the debate. Let us know what you think as interest in next week's draft continues to run at a fevered pace.
Go Bucks!