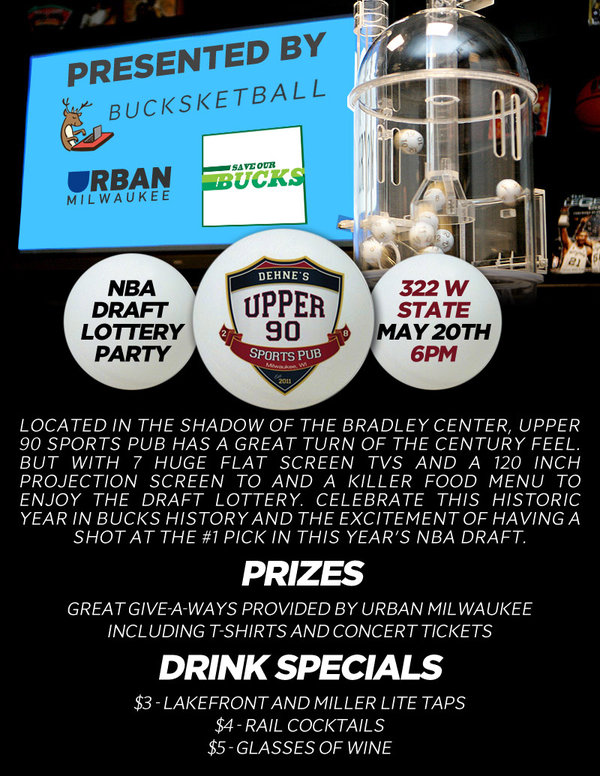 Hosted by Bucksketball & UrbanMilwaukee
Tuesday, May 20th 6pm-9pm
Upper 90 Sports Pub – 322 W State St, Milwaukee, WI
Earlier this season Save Our Bucks declared that "Winning Takes Balls" by putting up a billboard urging the Milwaukee Bucks to invest in the NBA Draft Lottery to acquire a franchise player and help bring our franchise back to glory.
The Bucks went on to have the worst season in franchise history in terms of winning percentage with 15 wins and 67 losses securing the most lottery balls in the NBA Draft Lottery. The Lottery has 1000 balls and the Bucks have 250 of them giving us a 25% chance to win the Top Pick and a guaranteed Top 4 pick. We are guaranteed a shot at one of Andrew Wiggins, Jabari Parker, Joel Embiid, and Dante Exum.
On May 20th the NBA holds the Draft Lottery and we find out our fate and draft pick slot.
Come celebrate this momentous occasion at the Official SaveOurBucks Draft Lottery Party, hosted by the good folks at Bucksketball and UrbanMilwaukee. The event will be held at Upper 90 Sports Pub from 6pm to 9pm and will feature drink specials, food, prizes, NBA Conference Finals and lots of Bucks fans.
Not only will we be celebrating our draft pick slot, this will also be the first time we've got together since the Bucks were sold by long time owner Herb Kohl to Marc Lasry & Wes Edens, as the NBA is expected to approve the sale on Thursday, March 15th.