FOLLOW US ON TWITTER @SaveOurBucks
The Save Our Bucks billboard went up approximately one year ago. Since that time, it has been a great ride to be a Bucks fan. A new ownership group, winning the #2 overall pick, drafting Jabari Parker, strong arena momentum and the emergence of Jason Kidd as a top tier coach among other things have all been tremendous developments. Nevertheless, the franchise right now finds itself at an important inflection point as it relates to developments on and off the court. Over the next 60-days, Bucks ownership will have to come to a resolution on two critical issues that will impact the next decade of basketball in Milwaukee.
The first inflection point is how the Bucks should approach their roster going forward, given the Jabari Parker ACL injury. We address that topic in Part I below. A future Part II will take a look at the arena situation given the apparent reluctance of Journal Communications to sell their building, resulting in the Bucks needing to postpone the site selection announcement while they sort out alternate locations.
To "Tank" or not to "Tank" – That Is the Question
Two ground rules before reading further. First, from here forward, we will use the shorthand "LED" when referring to the Bucks ownership group of Marc Lasry, Wes Edens and Jamie Dinan. From all reports, it appears these three are the majority shareholders in the team and the three most responsible for day-to-day operations. Using the acronym LED will save us all time and word count.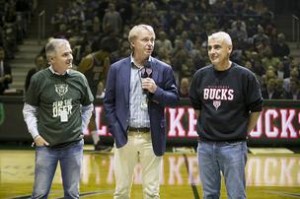 Secondly, the term "Tank" as used in these discussions shall be short-hand for the organization making decisions with a primary focus on winning in the future rather than winning games in the next week or next few months. For some, "Tank" is a four-letter word that implies a team will actively throw games, fail to compete and in the process violate some provisions of the Geneva Convention. For us (and most of the NBA world) the term simply refers to a team making player personnel and playing time decisions based on what they believe will benefit them long-term, versus winning a specific game that evening.
For the Bucks, they are at a critical decision point as it relates to their roster and the future. At this writing, the team stands at 14-15, only one game shy of the total amount of games they won all last season. By all accounts the Bucks have exceeded any expectations coming into this year. All good things right?  Well maybe.
The downside of the Bucks strong start is the fact that it has made it more difficult for them to obtain another top-five draft pick in the 2015 draft. If the season were to end today, the Bucks would have the #17 selection. NBADraft.Net has the Bucks draftee projected to be Sam Dekker. Draft Express projects the 17th selection to be Montrezl Harrell. Neither prospect inspires the same level of excitement or confidence as the guys at the top such as Jahlil Okafor, Emmanuel Mudiay or Karl Anthony-Towns. Even prospects who Bucks fans would consider acceptable consolation prizes such as Willie Cauley-Stein or Frank Kaminsky are projected to go higher than where the Bucks are currently slotted.
At this point, a number of readers are saying to themselves "What? That crew at SOB wants the team to tank again?  We've already got our stars in Giannis and Jabari!"  The problem is that last part, namely Jabari. The injury last week changed his career trajectory, even if by simply delaying his development by 12-18 months. Jabari was one of those must watch players, and like top prospects before him, we were watching him improve by the game. His 14 points per game on 60% shooting in December was a glimpse of the type of career progressions that future all-stars make.
Blown ACL's are no longer a career death sentence as they were back in the day when former Buck Larry Krystkowiak went down in the playoffs in 1989 (perhaps courtesy of a Bill Laimbeer push in the back).  Nevertheless, there are players who struggle to regain their form.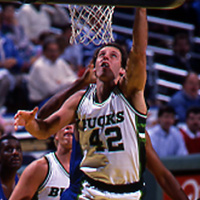 Bucks fans only need to look at recent history with Michael Redd and his inability to get past his ACL issues. Jabari is younger and much more athletic than Redd, which portends for a good recovery.  Nonetheless, Jabari is a player who relies on tremendous explosion and the ability to change directions perhaps as quickly as any 250 pound player in the NBA this side of LeBron. Frankly he has a lot of Derrick Rose "shake and bake" in his game, and we've all seen the struggles Rose has had in returning to where he once was after his ACL issues. We all are hopeful that Jabari makes a full recovery, but no one can predict where this injury takes us or more importantly him. Even if we assume a full recovery, many experts have cautioned that he likely doesn't take the court until a year from now, with him not being fully recovered until training camp in October of 2016.
Entering this year, Marc Lasry repeatedly noted that the Bucks rebuilding project was going to be a five-year process. The new ownership group was firmly behind the concept of building a championship contender, rather than riding journeymen to an 8th seed playoff spot in a weak Eastern Conference. That said, no one expected the team to be competing this well nor that the Eastern conference would be quite as big a disaster as it is, leaving the Bucks in the 6th playoff seeding at the moment despite a sub-.500 record.
We are at a critical inflection point with the current roster. Does it make sense for this team to continue to gut out gritty wins based on the play of journeymen vets such as ZaZa Pachulia, Ersan Ilyasova, OJ Mayo and Jerryd Bayless? That path was much more palatable when the organization had both Giannis and Jabari on the court, with those two experiencing a winning culture while at the same time contributing to said wins.
For most observers, Giannis is still on track to be a potentially dominant player in the NBA. He's a tremendously exciting prospect, and perhaps in the end will have a better career than Parker. Nonetheless, Jabari was the guy that the casual fan was focusing on. He was the one with the national name and pedigree of being the #2 overall pick in a strong draft class. If the team was going to sneak into the playoffs this year, while regaining the interest of said casual fan, Jabari was going to be the straw that stirred the drink. Whether we want to admit it or not, those much improved TV ratings and slight attendance uptick are now going to come to a halt without Jabari on the court.
Another factor to consider is Jason Kidd. By all accounts, his hiring last June appears to be a coup for LED. He and his staff are quickly gaining the respect of the league as the Bucks overachieve on the court. Can Kidd accept a situation where the team trades off veterans and focuses on future player development rather than winning now? In other words, can Kidd accept a "tank"? He's been a winner for much of his NBA career. The only real extended losing he experienced were his early days in Dallas twenty years ago. Arguably he signed up for a long-term rebuild when he accepted the Bucks job last June, but he's also a competitor who wants to prove the he belongs in the top tier of NBA coaches.
Finally, would the casual fan who is just starting to re-enter the picture support a tank or are they just tuning in because the team was winning the first quarter of the season?  Would the Bucks tanking impact the yet resolved new arena debate, with politicians and voters saying to themselves "same old Bucks"?  Or does the injury to Jabari give both the organization and Jason Kidd the cover they need to sell off veteran players while giving extensive minutes to players like Johnny O'Bryant?
Our Position – Stick to the Long-Term Plan
The Bucks need to stick to a long-term development plan and commence the process of selling off veteran players as soon as possible. Making the playoffs via the 8th seed in a once again weak Eastern Conference will not outweigh the benefit of adding another significant piece to this club with a top-ten draft pick next June. Further, young players such as Giannis, Johnny O'Bryant, Damien Inglis, John Henson and Kendall Marshall can all benefit from playing time during the remainder of the regular season. And if the organization does not view John Henson or Brandon Knight as a long-term pieces due to certain deficiencies in their games that may or may not be overcome, consider testing their market value as well.
The Bucks don't need to wait until the trade deadline of February 19, 2015 as teams have proven to be active in recent days, including the Rajon Rondo and Corey Brewer deals. Players such as ZaZa Pachulia, Jerryd Bayless, Jared Dudley, OJ Mayo and Ersan Ilyasova likely may have some moderate value to certain contending teams depending on what type of contracts the Bucks would take back in return.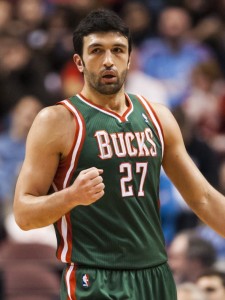 Would the Bucks garner a first round pick in return for said players?  LIkely not, although Ilyasova might draw a late first assuming he rounds back into the form he exhibited the first month of the season. But even if the Bucks can't garner first round picks for the players noted above, being "sellers" allows more opportunity for the youth to get on the court. It also allows the Bucks to improve their draft position and open up some roster spots for additional young prospects. It may even open up more salary flexibility for next summer.
Can the Bucks Get Another Top Five Pick?
One argument against tanking is the proposition that the Bucks might as well go all in for the playoffs, since their current win total of 14 is already too high to allow them to "catch-up" to the really bad teams in the league that currently have win totals ranging from 3-9 wins.
It is probably true that the Bucks would have to completely collapse to put themselves in position for a top five-pick, however, they can likely still obtain a top-ten pick and with it greater lottery odds to make a jump into the top-three. Take a look at the current standings as represented in inverse order. The Bucks are only 2.5 games from being out of the playoffs. They are far from the "lock" that Gery Woelfel proclaimed them to be the other day.
It isn't unusual for most NBA teams to have nice win totals the first two months of the season, only to collapse in the second half. Whether you attribute this phenomena to intentional tanking, loss of focus or other teams ultimately figuring out how to beat you, the result is the same. As Bucks fans, we've all experienced this situation. Here are a few painful examples from years past:
1992-93 season – Team bolts out to a 10-3 record under new coach Mike Dunleavy but finishes 28-54, gets 8th lotto seed. Drafts Vin Baker.

1995-96 season – Team thinks they have their core with Vin Baker and Glenn Robinson. Makes win now trades for Sherman Douglas, Benoit Benjamin and Kevin Duckworth after Thanksgiving. Enters Christmas break with 9-15 record hoping stay near .500 yet finishes with 25-57 record and 4th lotto seeding. Drafts Ray Allen.

1996-97 season – Team enters Christmas break with 15-11 record thinking the Vin, Ray and Glenn core has arrived and yet they fizzle out and finish 33-49, missing the playoffs.

2001-02 season – Team starts out 9-1 and finishes 41-41, missing the playoffs after appearing in the Eastern Conference Finals the year prior.

2004-05 season – Team goes 8-4 before the February trade deadline, peaking with record of 22-30 before player sell-off resulting in 30-52 record and 6th lotto seeding. Team wins lotto and acquires Andrew Bogut.

2006-07 season – The Bogut, Redd and Mo Williams core is in place! Team is 16-15 at close of calendar year and we are ready to win. Team fizzles out and finishes 28-54 and third lotto seeding.  

2009-10 season. Bucks catch lightning (John Salmons) in a bottle and finish 46-36. The next year they finish 35-47 as Andrew Bogut really can't return to the player he was pre-injury and Brandon Jennings doesn't fulfill the promise people saw in him as a rookie.
We highlight the seasons above to illustrate two universal truths that Bucks fans should know by now.
TRUTH #1- IT IS NEVER TOO LATE TO TANK
We've cited historical examples above of Bucks teams that started out strong and still ended up drafting between picks 1-8.  And frankly, those high draft picks produced the only meaningful players the team has added the past two decades outside of Michael Redd and potentially Giannis. Draftees Vin Baker, Ray Allen and Andrew Bogut all arrived in years where the team started out as over-achievers and possible playoff entrants only to flame out.
TRUTH #2 – TEAMS WITHOUT ALL STARS DO NOT CONSISTENTLY WIN YEAR AFTER YEAR IN THE NBA
This is the bigger point. We've all seen this movie before. Said Bucks team has journeyman players who gel together with newly hired coach. Roster also contains one or two top young prospects who occasionally have big games but haven't proven themselves as perennial all-stars. Team flirts with .500 or low playoff seed in weak East. Team success either goes away during that season or the chemistry disappears the following season. Said young prospects either get badly injured or don't fulfill their potential. Team has no proven all-star building blocks. Rinse, Repeat. 
As we discussed ad nauseam last year, the game-changing talent in the NBA is primarily acquired with a top-five draft pick. But even a top-ten pick is far more valuable than anything after it. ESPN did a study a couple years back where they quantified a massive statistical drop-off when picking after the tenth overall pick. Can the Bucks acquire a talent like Giannis with the 15th pick again?  Sure, anything is possible. But statistically the odd are strongly against you.
Even if the Bucks aren't able to obtain much value in trade for players such as Pachulia and Ilyasova, removing them from the roster opens up playing time for others and improves the draft pick. And that is before we get to the elephant in the room known as Larry Sanders. Most reports are that Sanders has limited trade value due to his current contract ($44 million owed over the next four years) and past issues.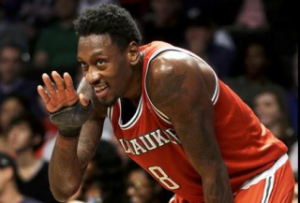 Nonetheless, Sanders possesses the unique skill of elite post defense, a skill badly in demand by most NBA teams, especially the Cleveland Cavaliers after their recent loss of Anderson Varajao with a blown achilles tendon.
There may or may not be an opportunity for the Bucks to make a Sanders trade that improves the team's long-term outlook. Again, we aren't advocating trading Sanders or believing that there are tons of options out there for the Bucks to make deals. However, we are of the opinion that the Jabari injury was a game changer as it relates to the idea of this team having all the top prospects they need on the roster and making a push for the playoffs this year by heavily utilizing veteran players.
We are assuming the organization has already had hours of these discussions already. We encourage them to continue the internal dialogue and stick to the plan. The future is not about ZaZa Pachulia and Ersan Ilyasova combining for 32 points and 18 rebounds to lead the Bucks to an upset win over the Hawks tonight. A needed part of the Bucks future is playing in the NCAA right now on teams such as Duke and Kentucky. The sooner LED make moves to that effect, the brighter the future will be even though it will require some sacrifice in our fan viewing pleasure the remainder of the season.
While the first two-months of the season have been great, let's recognize the nice start as merely a taste of what the future will be like, because the future isn't now. The Bucks need to move some of the vets and focus on the seasons ahead. And if the vets aren't moveable, pare back their playing time in favor of the youngsters. We've waited 25-years for a consistent winner. We can wait another year or two to do this the right way.