FOLLOW US ON TWITTER @SaveOurBucks
Happy Independence Day!
We thought we'd take this time for some thoughts coming off this past week's umm, interesting series of events.
Can the Bucks New Management Model Work?
As it relates to the head-coaching position, the Bucks experienced a significant upgrade with the hiring of Jason Kidd. After a rough start, by all accounts Kidd made significant adjustments in New Jersey last season, allowing the team to finish with a 34-17 record down the stretch, including reaching the second round of the playoffs. He employed some creative lineups and helped reclaim the careers of a few veterans as well. Kidd appears to hold significant promise as a coach in the NBA and we welcome him to Milwaukee.
Our questions of Kidd relate to his future input into player personnel matters. We at SaveOurBucks.com have been consistently in favor of an organizational model whereby the Bucks locate and hire a sharp General Manager, and provide that person with full organizational control. The GM in turn then hires their own coach, much like the model employed by the Green Bay Packers in 1991 when the team hired Ron Wolf, and he in turn identified his coach, sending a second round draft pick to the San Francisco 49'ers as compensation to free Mike Holmgren from his contract to come to Green Bay. That model is the one that works more often than not and has the fewest inherent conflicts. Models where there is an unclear delineation of power between the owner, coach and GM aren't always the most successful.

We aren't going to pretend that Kidd is coming here solely to coach. He was hired with the knowledge that he'd have the ability to have a significant say in player personnel matters. If he wasn't, then John Hammond would have been involved in the hiring versus Wes Edens and Marc Lasry. That said, the Kidd hire does have a chance to work. The Bucks in 1977 hired an unproven Don Nelson, fresh off his playing days to be coach of the te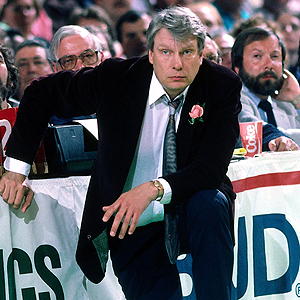 am. Nelson in turn was given significant organizational power in concert with GM Wayne Embry in order to reshape the roster. The gamble worked, as Nelson led the team to a decade of success while functioning as head coach and quasi general manager. Nelson did the same thing when he left the Bucks and took his coach/GM talents to Golden State, where he brought excitement to a doormat franchise, employing the talents of Chris Mullin, Tim Hardaway and Mitch Richmond to post a couple 50-win seasons.
George Karl was given the same powers when hired by Herb Kohl in August of 1998. Karl remade the roster, acquiring Tim Thomas, Dell Curry, Sam Cassell and Scott Williams among others, who helped turn things around resulting in the appearance in the 2001 NBA Eastern Conference Finals.
An asset that Kidd brings to the table is an ability to instantly get the attention of young players by virtue of his fiery personality, but more importantly his Hall of Fame resume as a player. We've all seen a number of Bucks players in the past tune out their coaches who either didn't play in the league or were journeymen at best. Kidd's playing career (and championship ring earned with the Mavericks in 2011) is so recent that he carries a lot of "mojo" or "street credibility" that he can use both to motivate players and perhaps recruit free agents and trade targets to Milwaukee. We all remember past trades the team made, where Kohl and Hammond had to practically beg the acquired player to come to their introductory press conference in Milwaukee (cough, RJ). We don't see that happening with Kidd. By most accounts he does command the respect of many of the top players in the league today.
Interestingly enough, this is perhaps the first time in many years where the Bucks actually were able to hire their first choice as coach. We can all recall periods of coaching vacancies where the Bucks were unable to land either their first, second or third choice. Doug Collins, Rick Carlisle, Flip Saunders, Larry Brown, Jerry Sloan and many others all had offers or inquiries extended to them, only to turn down the Bucks organization.  Some of us may disagree with the choice of Kidd, but give Lasry and Edens credit for going out and poaching their preferred candidate from a higher profile organization. This aggressiveness bodes well for the future of the team.
The question is whether or not Kidd, along with owners Marc Lasry, Wes Edens and John Hammond are going to be able to remake the personnel on the team into an Eastern Conference powerhouse over the next couple years. Where the powerful coach model usually fails is when that person may start to get desperate for instant gratification on the court and they begin to trade youth and draft picks for older veterans. A few days ago we wrote about Kidd's strengths and weaknesses. We'll have to see how things progress here in the year ahead.
Edited to Add: In hindsight perhaps Lasry and Edens had their eye on Kidd for a long time and knew there might be a window to get him after the draft. It did seem somewhat strange for two self-professed basketball junkies to spend $550 million buying the Bucks and then not immediately clean house of the long-time GM and coach who had led the team to an NBA worst 15-67 record last year. 
Kidd Should Be Motivated
As we learned last week, Jason Kidd does not have many strong supporters in the media or certain fan bases of teams he's played for in the past. For NBA players, run-in's with the law, conflicts with your coach or conflicts with teammates can be quickly forgiven as long as you are producing at a high level on the court. For much of his career Kidd was able to do that. For that reason, he always found a willing home somewhere and was able to quickly reclaim his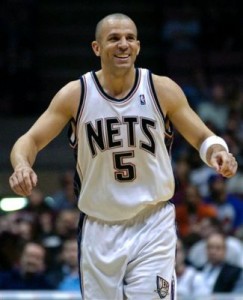 reputation by impressing the local fans of whatever team he was on at the moment. Athletes are always accorded a forgiveness factor for their personal short-comings as long as they continue to perform at a high-level.
The coaching profession is a little bit different and a bit less forgiving. An element of maturity is required since the coach is now the leader of all the players on the team and a representative of management. Kidd can no longer rely on his basketball gifts to win over the Milwaukee fans as he did in other cities during his playing days. He's got to do it now with brainpower and leadership. Brainpower and leadership in making the right trades, setting the right lineups and motivating a group of 15 players, all younger than he.
The circumstances of Kidd's arrival in Milwaukee caused him to burn most of the political capital he had accumulated through his coaching performance with the Nets last year. For that reason, Kidd should be approaching this job with maximum motivation to succeed. Kidd needs to prove to the Nets that they made a mistake. To prove to Marc Lasry and Wes Edens that they made the right hire. To prove to the fans of Milwaukee that he can help build a great organization here over the long-haul and not flame out after a season or two.
If Kidd ultimately burns bridges and doesn't succeed in Milwaukee, his chances to stay in the league as a head coach or GM will dwindle and he then turns into a figure more like Isiah Thomas or Mo Cheeks, who are no longer at the top of anyone's "must hire" list. In contrast, Kidd can go the route of Don Nelson or Jerry Sloan, both of whom found their niche in the league as highly successful head coaches who also had significant organizational control. Kidd's post-playing days career is somewhat on the line now. He's doubled down with this move to Milwaukee and the stakes are perhaps higher for him than they are for us as Bucks fans. Having your reputation on the line in a new job isn't always a bad thing for motivation and peak performance.
Milwaukee Media – Where Have Thou Art Been?
We were quite surprised with the level of media coverage and scrutiny given the Kidd hire and the events leading up to it last week. For much of the past twenty-years the Milwaukee sports media has been asleep at the wheel as it relates to the Milwaukee Bucks. As hard-core fans, we welcome this return to action. We think that accountability drives peak performance, and it was clear to us last week that the Milwaukee media is going to demand peak performance from Marc Lasry, Wes Edens and Jason Kidd. This is good thing. As we wrote many months ago, we always wondered where the Bucks version of Bob McGinn was. Perhaps one or multiple members of the local media will now emerge to fill that role.
That said, the onslaught of media coverage does validate for us the contention that many media members were in the past very wary of providing strong constructive coverage of the team out of concerns over how such coverage would be viewed by Herb Kohl. Whether you were worried your media outlet would lose Bucks advertising in retribution for tough coverage or concerned that you'd be viewed unfavorably on the cocktail party circuit, a number of media members and prominent Milwaukee residents sat it out. Further complicating the issue was a concern that speaking out about the mess the team was in would result in offending Kohl and perhaps having him consider selling the team to a buyer that would move it out-of-state.
As a reminder for those who sat it out, there were endless unreported stories the past twenty-years that would put L'Affaire Kidd to shame for those who wanted to cover them. The parade of failed coaching hires, the terrible trades and free agent contracts undertaken by Herb Kohl, Larry Harris and John Hammond and the many interventions by the Senator with local law enforcement to do damage control when players ran afoul of the law. We aren't going to name specific names but those in the know can recall incidents of drug busts, disorderly conduct and allegations of sexual assault involving former players that core fans knew about but the media elected to pretend never happened during Kohl's tenure.
Do we condone Jason Kidd's past personal baggage. No. That baggage may be a predictor of a short lifespan with the Bucks organization. That said, he isn't the first Bucks coach to have an interesting past. Do a Google search with the terms "Scott Skiles Big Poppas" and then check the Bucks media archives as to how many times that story was mentioned by the local sports talk radio personalities.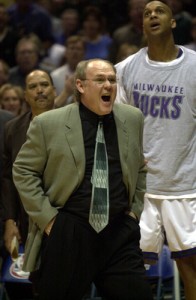 And if it comes to issues of coaching ego, we recall the very critical time in the 1998-2001 Bucks turnaround under George Karl, whereby Karl grandstanded his way to becoming the highest paid coach in the NBA under threat of leaving the Bucks for North Carolina after only two seasons at the helm. After being denied the ability to leave the Bucks, Karl was allowed to moan about the situation without much fallout among the locals. We were all just glad he was staying here, albeit after holding Herb Kohl for ransom.
For those of us at this website, we are grateful the local media is back in the game. The Kidd hire is high risk and there are serious questions to ask about the situation to hold our new owners and Kidd accountable. We think this type of inquiry is healthy and helps drive peak performance. We just believe that some of the media outrage at the Kidd hiring is a bit over the top, because dysfunctional situations occurring with Bucks is nothing new, it just wasn't heavily reported on until now. At least this time the situation resulted in the Bucks actually acquiring what might be a really good commodity in the form of a promising young head coach.
Kumbaya and on to the Era of Jabari
With the Kidd commentary out of the way, let's now move on to where the real action is, namely Jabari Parker. On Friday, July 11th at 7:00pm Central, Parker and the Bucks will take the court in the Las Vegas Summer League against Andrew Wiggins and the Cavaliers.
It has been twenty-years since the Bucks and their fan base had a prospect this highly regarded on the team.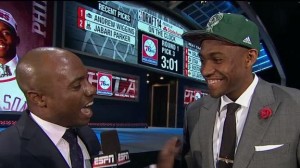 Not since the days of Big Dog have the NBA media been fawning over a Bucks player. Veteran NBA writer Scott Howard-Cooper today unveiled Jabari atop his leaderboard for Rookie of the Year.
Regardless of how the record plays out next season, Parker gives the fans a great deal of hope. At the end of the day, how Parker turns out as a player is likely going to be far more important to the franchise than whatever transpires with Jason Kidd. The Bucks haven't had a true top-five player since the days of Sidney Moncrief thirty-years ago and hopefully Parker can turn into that type of player. We are looking forward to seeing Parker and Giannis take the court a week from now and beginning their own era of Bucks basketball.
Happy Fourth of July and Go Bucks!