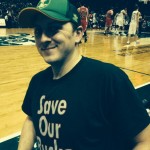 By: SOB Spokesman Paul Henning 
Follow Paul on twitter @brewcitypaul
FOLLOW US ON TWITTER @SaveOurBucks
The Milwaukee Bucks pulled off trade deadline deal that surprised fans and the basketball community by trading starting point guard and fan favorite Brandon Knight to the Suns and in return getting back 2014 Rookie of the Year point guard Michael Carter Williams from Philadelphia 76ers and PG Tyler Ennis and PF/C Miles Plumlee from Phoenix Suns.
This trade stunned not only fans but members of the national media who have been closely following Milwaukee's Cinderella season led by new head coach Jason Kidd and the much improved play of the team led by Brandon Knight. Firmly entrenched in the Eastern Conference's 6th spot with a chance to move up, many expected the Bucks to stand pat. But with Knight's impending restricted free agency, it appears they made a move to get back assets instead of run the risk of losing him this summer to an offer sheet they did not feel like matching. Knight is widely expected to get a max contract offer from another team for his improved play this season and rising salary cap next season.
At face value, many fans are wondering 'why' or 'how' we could trade our starting point guard and risk ruining the chemistry right before we make a run at this years playoffs. Our owners know we are not winning the NBA championship this season. While the playoff run will certainly be enjoyable, we must look ahead and put down the foundation for a championship level caliber roster. That means making tough decisions. That means understanding your assets & their valuations. Buy low & sell high is a mantra in the financial world. A world in which Lasry & Edens attained their success. They sold high on Knight and bought low on longer term assets in MCW, Ennis & Plumlee who are all under contract for between 2-4 more seasons on rookie scale contracts.
This means the Bucks will have the money to pay other young players like Khris Middleton this summer and Giannis next summer. This also means we'll have more flexibility in trades going into this summer and we'll have a chance to make a splash or two in free agency.
The Milwaukee Bucks owners knew they had their work cut out for them when they purchased the franchise. Last year's 15-win team had the worst team record in the league. The NBA has also required them to build a new facility to replace the Bradley Center or risk losing their recently acquired franchise. They sold Milwaukee fans on the hopes a better tomorrow. They said they would sacrifice short term gains in favor of long term success. They honored that plan by making a trade that was focused on the future rather than the present. A trade the organization feels will better position them for a title down the road versus the sixth seed in 2015.
The afternoon of the trade deadline, the team held an open practice for fans in Al McGuire Center on Marquette Campus in a wonderful collaboration between an NBA franchise and NCAA school. Looking for ways to expand their fan base and strengthen their ties to the local community they have continued the momentum they started by recently announcing a partnership between the two to build a world class Sports Science & Medicine facility on 8th & Michigan in downtown Milwaukee. Fostering new research in the field of sports medicine will help both organizations in their search for a competitive advantage which is to keep players healthier and stronger, in turn leading to more wins on the floor.
The Milwaukee community is anxiously awaiting word on the site details and plans and while they do there will be continuous debates about how we will get the arena financing plan finalized to get to the construction phase.  While concerns of this team actually moving to another city have dwindled, it's easy to see that this plan is far from a done deal as currently constructed. Scott Walker's controversial Jock Tax plan isn't a slam dunk for everyone with a vote in Madison and there's still plenty of convincing to do statewide.
The new owners began their investment in Wisconsin with the purchase of the Milwaukee Bucks franchise. They say building an arena is the only option. It begins with basketball, but this is about so much more. So far, they've laid out a plan and kept their word. They've got my attention and faith, that we have the right people in place to make the decisions to take this team and city to a whole new level. As a lifelong Bucks fan, we've needed this type of leadership and are grateful for the exciting future ahead.