FOLLOW US ON TWITTER @SaveOurBucks
Once upon a time there were three brothers, Christoper, Tom and Scott. The three boys had grown up on the shore of Lake Winnebago, raised by their loving parents Henry and Karen, who owned a beautiful house on the Lake. As youngsters the boys loved the lake and all it had to offer. Fishing, boating and swimming. One of their favorite activities was going out walleye fishing in their uncle Lloyd's 16-foot Lund Fishing boat. The memories of those days on the lake were imbedded in them all. The three brothers agreed that as they grew up and built families of their own, they would always share this boating legacy with their children.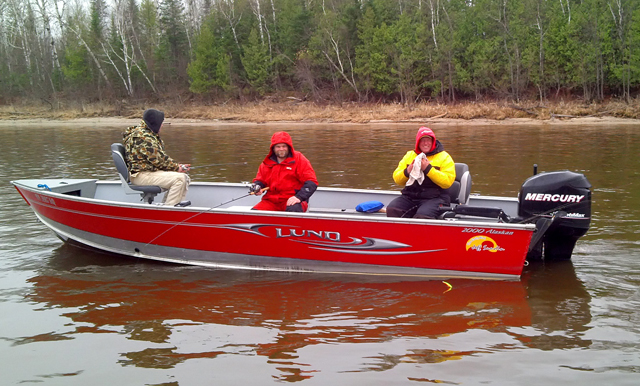 Over time each of the boys married and transitioned into the stresses of normal adult life. Scott moved to Madison where he had built a lucrative career, Christopher moved into downtown Oshkosh, Tom elected to stay on the lake, inheriting the family home after the passing of their parents.
One day the three brothers were gathered at the park in Fond Du Lac for the annual boat show. A beautiful 24-foot pontoon boat with a 200 horsepower Mercury motor powerful was on display. The dealer was going out of business next-month and offering them a once-in-lifetime price of $22,000.
The three brothers knew Uncle Lloyd's old Lund wasn't cutting it anymore. They each had teen children who wanted to not only fish but waterski and inner-tube. Given the size of the families, it was impossible for them to all use Uncle Lloyd's small fishing boat at the same time. Further, the families all wanted to have that boat that could be used for more than just fishing. The model on sale could also be used for water sports and cruising on the big lake. Scott suggested that he had the money to buy the boat, but it would need to be kept at the Tom's house on the lake.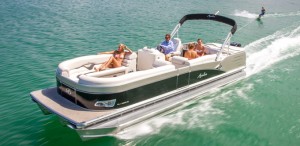 Christopher seconded the idea and offered to purchase the lift, trailer and handle winter storage at his garage in Oshkosh.
Tom was a bit apprehensive though on the purchase and the other two couldn't understand why Tom wasn't more enthusiastic about this opportunity, especially since Tom's children would use the boat quite often. Christopher said that all three brothers should go home and talk about the boat purchase idea with their wives before making a decision.
Scott drove back to Madison that night to talk to his wife Robin about the boat. The first words out of Robin's mouth were "How much are your brothers putting in? You know those two will use that thing a lot more than we ever will!"  Scott replied "Honey, I think if Chris covers the trailer and lift, our family can swing the full $22,000 purchase price if we have to."
Robin was furious. She noted for Scott that they still had to cover expenses for a growing family of four. Further she informed Scott that if the boat was to be kept at Tom's house, Tom and his children would end up being the ones using it the most. Scott was discouraged, as he knew that if he could just get Robin to see the boat in person, she might change her mind. However there was no way Robin was driving all the way to the dealership in Fond Du Lac to look at a boat if their family had to pay for it all.
The scene at Tom's house was similar when he arrived home. Tom's wife Roberta reminded Tom that their discretionary savings had been earmarked to purchase a 1920's original Lionel train set that had recently come up for sale on E-Bay. Tom and Roberta were both vintage toy aficionados, having first met each other at  TrainFest in West Allis years earlier.
The scene at Christopher's house was a bit easier. He and his family loved the water and were eager to make this happen, even if Scott asked for some additional money toward the purchase of the boat. The only real naysayer was his Christopher's grandfather Franklyn, who felt that a pontoon boat wasn't the way to go. Franklyn said if the three brothers were going to buy a boat, they could purchase his trusty canoe that had been in family since 1948. Christopher immediately informed Grandpa Franklyn that the canoe idea was completely impractical for families who wanted to fish and boat on big lake such as Winnebago.
The next week the brothers met to discuss whether they could go ahead with their purchase. Scott informed Tom that there was no way his wife would allow him to pay the full cost of the new boat, especially since it was being kept at Tom's house and it was likely Tom would be the one using it the majority of the time. Scott said that Robin told him their family could carry 70% of the cost, but it would only be fair if Tom and Chris each put in 15%. Chris immediately replied that he'd do it, although he was unsure of his savings account balance at the time.
Tom noted that while he had a good annual income from his job, he really didn't have any savings money left to spend on a new boat. Rather than put in 15%, Tom suggested that he could donate some new fishing rods and a set of water-ski's to the effort. Scott and Chris weren't sure that would fly with their spouses. They also felt troubled that Tom couldn't step up more on the issue since the boat would be kept at Tom's house on the lake. The three brothers were at a crossroads.
Upon hearing of the family dilemma, the brothers got a call the next day from their Uncle Fitz. Uncle Fitz was a wealthy banker who owned the local savings and loan in Hustisford. Uncle Fitz informed the three brothers that he could arrange a low cost, no recourse loan for each of them to pay a respective share towards the boat. Christopher and Scott thought this might be the way to go, especially since they knew they would be able to rent out the boat during the week to tourists and fisherman and be guaranteed to recoup the boat's purchase price over time and then some. Tom was still apprehensive on the whole idea even though he could likely find the money to pay back Uncle Fitz over time.
As the boys stewed on their purchase, the boat dealer gave them a call. He informed them that the  boat they had their eye on was still available at that tremendous sale price, but they needed to act fast. A buyer all the way from Seattle had called on the boat the day before. They brothers knew that if they didn't act quickly, they'd never see a deal like this again. What would the family do? We'll find out in Part II next month.
SOB EDITORS NOTE: We felt we needed to inject a bit of levity into a what has been a turbulent week politically on the arena deal. Given the stakes involved, we are hopeful that all parties will be able to work out a great solution towards the new arena, where each stakeholder feels like they achieved something for their constituents and the State of Wisconsin, especially given that "Uncle Herb" has made an unprecedented civic gift of $100 million dollars to the effort.
In the spirit of the Rolling Stones coming to Summerfest this year, we encourage the politicians to click on the YouTube link below and take to heart the lyrics:
"You can't always get what you want, but if you try sometimes, you just might find, you get what you need"