FOLLOW US ON TWITTER @SaveOurBucks
In the week after Governor Walker set forth his arena funding proposal, a number of key GOP legislators have now offered their thoughts on the chance for passage as part of the 2016-17 State budget.
The viewpoint of most can be summed up in this interview that Channel 12's Mike Gousha just posted with State Representative John Nygren. In the interview, Nygren highlights that he thinks Walker's plan makes fiscal sense and has merit. However, he also makes clear that he views it important the City of Milwaukee and Milwaukee County come up with some financial aid as well. Nygren notes that he'd prefer the State funding component be $100 or $150 million dollars rather than the $220 million proposed by Walker. Here are our brief thoughts on where things stand.
Our View – Both Sides Need to Work Together
As we've stated all along, the construction and funding of a new arena is a bipartisan issue with bipartisan benefits for everyone. Whether the message is delivered by Nygren, Alberta Darling, Robin Vos or a host of others, the GOP has clearly come out in favor of the Walker plan with the caveat that $220 million is too large a number and Milwaukee will need to contribute some money to the project.
There is an old political adage that when putting a deal together, you want to get as many people in the boat with you as possible. If everyone is in the boat, people will be less inclined to start drilling holes in it and ultimately sinking you (and themselves). There are long memories in this State of then GOP Governor Tommy Thompson championing Miller Park and GOP State Senator George Petak subsequently being the key vote to approve it back in the summer of 1995. Immediately after the courageous vote by Petak, there was a recall campaign started against him in his home district. Ten months after his Miller Park vote, Petak was defeated in a recall election by Democrat Kim Plache, which caused a change in control of the State Senate from R to D.
The interesting phenomenon about arena/stadium politics is that there are constituents in both political parties that oppose any type of public funding for projects of this type. So for any plan to pass, it will need broad support from both sides of the aisle. It appears to us that the GOP is seeking a monetary "buy in" from Milwaukee on the arena, because that ensures the Democratic party is "in the boat" with Walker and the GOP so to speak. With everyone in the boat, no one can start drilling those holes.
Nothing speaks to commitment like cash down. To that end, many of you will recall that last August, Milwaukee Alderman Joe Davis said that he would support $100 million in city bond funding for an arena project. And therein perhaps lies part of the challenge for the Milwaukee political contingent. They are somewhat at odds with each other over a number of different issues, including the streetcar, especially as it relates to Aldermen Bob Donovan and Alderman Joe Davis, with both gentlemen stating they intend to run against Mayor Barrett in 2016.
We do not expect the Milwaukee political contingent to play their cards until the Bucks reveal the actual site location and costs of the project. Only then can we have a sense for how transformative the project might be and what type of resources will be needed to get it built. That said, we'd hope that once the Bucks do unveil details, Milwaukee is able to step up with some level of monetary support so that we can have a bipartisan effort to get this done and done quickly.
An Arena Party With FREE BEER!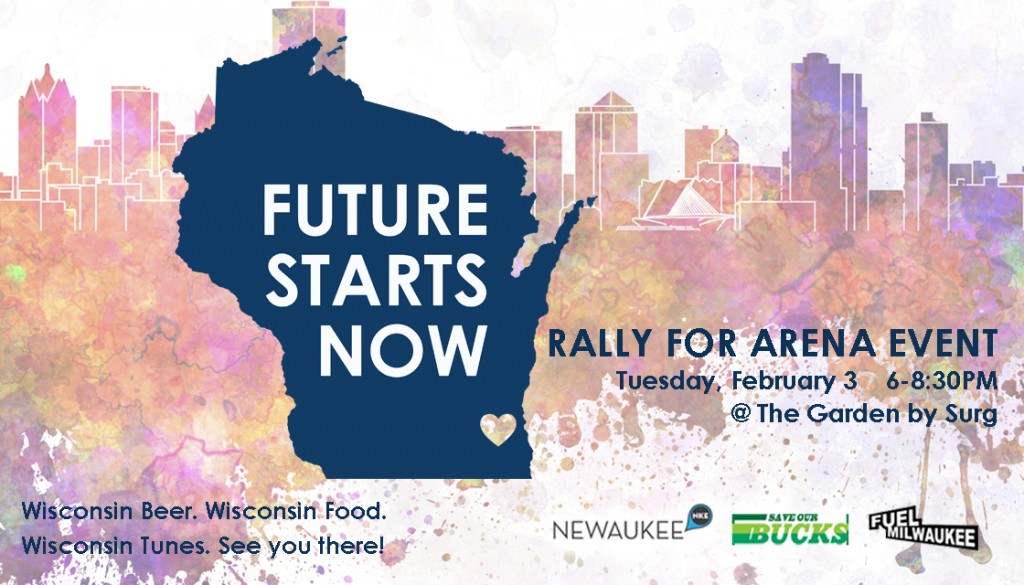 As part of bringing people together, Save Our Bucks, along with Newaukee and FuelMilwaukee would like to invite you to a gathering of arena supporters on Tuesday, February 3, 2015 starting at 6:00pm at The Garden, located at 727 North Milwaukee Street. There will be free beer and food. Come mingle with your fellow Bucks fans as we celebrate the future to come. More details and RSVP here.
Go Bucks!