FOLLOW US ON TWITTER @SaveOurBucks
It is expected that the 33 members of the Wisconsin State Senate will discuss and vote on the arena bill this Wednesday, July 15th. We do not yet have a time when they will take the floor. It is expected that both the Democratic and Republican caucuses will meet tomorrow (Tuesday) to discuss where things stand and set a time to meet.
We need 17 votes for this to pass and move on the State Assembly. While there are other approvals required, the conventional wisdom is that if the arena measure passes the Senate, the other needed approvals will fall into line. The Senate has always been our toughest step in the process.
Right now the feeling among arena supporters in Madison is that they may indeed have the votes. This feeling was further buttressed by a positive tweet that Sen. Lena Taylor sent out earlier today that she feels she may be close to voting "Yes" on the bill.
EXCITED with the progress I've made on the arena deal! 1st meeting at the table with a deal that's a win-win-win-win! Will update u tomorrow

— Sen. Lena C. Taylor (@SenTaylor) July 13, 2015
We need to take this optimism and momentum and use it for one last day of calling your State Senators. As Mark Cuban learned with DeAndre Jordan, things can change at the last minute. Let's not take that chance.
What can I do tomorrow (Tuesday)?
Call your State Senator and afterwards call other State Senators. Call them all if you have the time. If not, then call the State Senators in your region (see below).
Let's go all out! Don't worry about getting in theoretical debates about stadium funding with British comedians or trying to convince your uncle Louie this is a good deal. We are past that point with only 36-hours to go until this hits the Senate floor. This is all about reinforcing in the minds of each State Senator that they have constituents who really care about this issue and that you will follow through in the voting booth on this matter in the future (either positively or negatively)
The script for tomorrow is easy.  Call your (and other) State Senators and say the following:
"My name is ______________ and I live in/at ____________(address).  I would like Senator _______ to know that I strongly support the arena funding bill that will be debated tomorrow in the State Senate.
I would like Sen. __________ to vote FOR this proposal as it makes great economic sense for our State.  I will be very disappointed if Senator _________ is not able to vote for the arena funding proposal "
That's it. That's all you need. Thank the staffer for the time and move on to the next call.
If you've called already, you have our permission and encouragement to call again as this time the actual bill is now in place. No reason why you can't make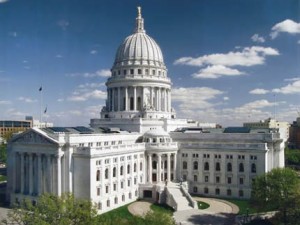 that second call to cement things. For those whose Senators have publicly said "no" already? Make them re-think their decision with your calls. Chris Paul was able to sway things back with DeAndre so you can as well.
IF YOU STILL DO NOT KNOW WHO YOUR STATE SENATOR IS, HERE IS A QUICK LINK TO FIND YOUR LEGISLATORS: http://legis.wisconsin.gov/
Just call the State Senator that comes up at the link after entering your address. We will call the Assembly person later after we clear the Senate hurdle.
FOR THOSE THAT WANT TO CALL ALL THE SENATORS OR GROUPS OF SENATORS BY REGION, CONSULT THE TABLES BELOW – >
Milwaukee Metro – Let's go 9 for 9 with these folks on a "Yes" vote!
Tim Carpenter (D-Milwaukee, District 3) – 608-266-8535
Alberta Darling (R-River Hills, District 8) – 608-366-5830
Paul Farrow (R-Pewaukee, District 33) – 608-266-9174
Nikiya Harris Dodd (D-Milwaukee, District 6) – 608-266-2500
Chris Larson (D-Milwaukee, District 7) – 608-266-7505
Mary Lazich (R-New Berlin, District 28) – 608-266-5400
Duey Stroebel (R-Saukville, District 20) – 608-266-7513
Lena Taylor (D-Milwaukee, District 4) – 608-266-5810
Leah Vukmir (R-Wauwatosa, District 5) – 608-266-2512
SE Wisconsin
Scott Fitzgerald (R-Juneau, District 13) – 608-266-5660
Richard Gudex (R-Fond du Lac, District 18) – 608-266-5300
Devin LeMahieu (R-Oostburg, District 9) – 608-266-2056
Steve Nass (R-Whitewater, District 11) – 608-266-2635
Van Wanggaard (R-Racine, District 21) – 608-266-1832
Robert Wirch (D-Kenosha, District 22) – 608-267-8979
Madison Metro
Jon Erpenbach (D-Middleton, District 27) – 608-266-6670
Mark Miller (D-Monona, District 16) – 608-266-9170
Janis Ringhand (D-Evansville, District 15) – 608-266-2253
Fred Risser (D-Madison, Dstrict 26) – 608-266-1627
SW Wisconsin
Howard Marklein (R-Spring Green, District 17) – 608-266-0703
Jennifer Shilling (D-La Crosse, District 32) – 608-266-5490
NW Wisconsin
Janet Bewley (D-Ashland, District 25) – 608-266-3510
Shelia Harsdorf (R-River Falls, District 10) – 608-266-7745
Terry Moulton (R-Chippewa Falls, District 23) – 608-266-7511
Jerry Petrowski (R-Marathon, District 29) – 608-266-2502
Kathleen Vinehout (D-Alma, District 31) – 608-266-8546
NE Wisconsin
Robert Cowles (R-Green Bay, District 2) – 608-266-0484
Dave Hansen (D-Green Bay, District 30) – 608-266-5670
Frank Lasee (R-De Pere, District 1) – 608-266-3512
Roger Roth (R-Appleton, District 19) – 608-266-0718
Tom Tiffany (R-Hazelhurst, District 12) – 608-266-2509
Central Wisconsin
Julie Lassa (D-Stevens Point, District 24) – 608-266-3123
Luther Olsen (R-Ripon, District 14) – 608-266-0751
Remember, be polite, clear and concise. And if the staffer tells you that they aren't taking down your name since you might not live in the district of the Senator you are calling, tell the staffer you understand that, but you feel this issue is so important for the ENTIRE STATE that you felt compelled to call.
Let's Do This!  One Final Day!  One Final Push!
Go Bucks!  Go Arena Funding Bill!
Your SOB Editor