FOLLOW US ON TWITTER @SaveOurBucks
EDITORS NOTE (Update Tuesday, July 7th at 8:30pm CT)
We have an updated FAQ on where we stand now posted to the site. Read in conjunction with this piece. 
Let's begin this piece with some all caps shouting to emphasize the importance of the moment:
WE ARE LESS THAN ONE WEEK FROM POTENTIALLY HAVING A NEW ARENA APPROVED
THE ARENA COULD GET BOGGED DOWN IN "POLITICS AS USUAL" UNLESS YOU CALL YOUR LEGISLATORS STARTING TODAY – MONDAY MORNING JULY 6th
THE JOINT FINANCE COMMITTEE ("JFC") WILL HOLD THEIR IMPORTANT HEARING ON THE ARENA BILL TODAY – ON MONDAY, JULY 6TH AT 11:00AM
IF THE MATTER MAKES IT OUT OF THE JFC COMMITTEE, THE FULL WISCONSIN STATE SENATE AND WISCONSIN STATE ASSEMBLY COULD VOTE TO APPROVE THE BILL LATER THIS WEEK
We have all talked the arena issue to death for the past six months. We have now reached the critical point where the arena funding bill will be debated in Madison and voted on this week.
Even if you have already called your representatives, you will need to CALL THEM AGAIN starting TODAY, Monday morning, July 6th at 8:00am when their offices open. Below is an FAQ we would like you all to read on how to contact your representative and a timeline of the legislative process we hope results in passage of the bill this week.
While Republicans have majorities in both legislative bodies (19-14 in the Senate and 63-36 in the Assembly) State Assembly Speaker Robin Vos (R-Rochester) has been publicly telling people that there may not be enough GOP votes to pass the bill. As of two days ago he felt that they would need 3-5 Democratic State Senators to vote for the bill and perhaps 15 Democratic State Assembly members to also vote for the bill.
What this means is that if your representatives are Democrats, you've got to lobby them hard. Especially those in the Milwaukee and Southeastern Wisconsin area. Please note that the arena funding bill is now entirely separate from the State budget. Your rep can still vote against the State budget but vote "For" the arena this week.
Further, the text of the full provision has now been in the public domain for more than a week so legislators have had time to review things. The Legislative Fiscal Bureau has also released their analysis of the bill.
HOW TO CONTACT YOUR LEGISLATOR FAQ
Q: How do I find out who represents me?
Every citizen in the State of Wisconsin is represented by one member in the State Assembly and one member in the State Senate. That means everyone has two people who represent them, thus two calls to make.
Both bodies must pass the arena bill for it to go to Governor Scott Walker's desk for signature into law (Don't worry, he'll sign the bill if it passes).  The link below allows you to enter your home address and it will tell you who your Senator and Assembly representatives are. That is who you call.
QUICK LINK TO FIND MY LEGISLATOR: http://legis.wisconsin.gov/
Q: I already called my representative. Should I do it again?
A: Yes!  Call again!  It reinforces the fact this issue is important to you. Additionally, the arena funding bill is now "real" and in front of them for a vote this week.
Q: Why am I making all these phone calls?
A: Constituent phone calls are vitally important. Staffers you reach at their offices are constantly relaying to the representatives what you the people are telling them. If your rep hears from even 200-300 people with a phone call that will "move the needle" with their offices.
Q: What do I say when I call?
A: Here is a suggested protocol for each call you make:
Staff Person: Hello?
You: Hi, my name is ____________, I am a voter and I live in Wisconsin.  I would like to be able to publicly provide some feedback to Legislator ____________ regarding the new arena funding bill now before the legislature. Are you the right person to speak with?
Staff Person: Yes, what are your thoughts? (They will ask for your name and address to prove you are in their district. This is common practice. If they don't ask, volunteer your name/address as it tells the legislator you are a voter they represent)
You: What is Senator/Assemblyman's _____________ position on the State funding bill for the new Milwaukee arena?
Wait for their answer and follow up with this line (or something similar)
You: I would like Legislator ___________ to know that I strongly support the bill authorizing the new arena in Milwaukee. This proposal makes great economic sense for the State and I would like Legislator __________ to vote FOR the bill this week.  Again, my name is _____________ and I live in the district.
Staff Person: I will relay your concerns to the Legislator.  Thank you.
That's all it takes. A two-minute phone call. If you want to expound further on how much the Bucks mean to you and how it would be a travesty to blow this opportunity and allow the team to move to say Seattle, by all means do so.
Further, if you want to add that you consider this issue extremely important and it will impact how you will vote in the next election, please communicate that as well. But again be polite, clear and concise.
Q: I want to email my reps rather than call. That's ok, right?
A: No. Just emailing your rep is the equivalent of James Harden playing defense. You might as well let the arena opponents score 55 points against you. Email your representative only as a follow-up to your call. Think about how much spam you get via email daily. Your representative gets 10x that amount of email from all sorts of robo-lobbyists. They disregard much of it.
Q: Ok, who votes first on this?
A: The arena funding bill will need to be passed by the 16 members of the Joint Finance Committee. These are 16 key people who will debate the bill starting on Monday, July 6th at 11:00am.  You can watch the debate live at this link.
Q: What happens if the arena bill passes the JFC?
A: The measure then will go to the full Senate and full Assembly for a formal vote, possibly as early as Wednesday.  We could be successfully done with all this by one week from today.
Q: I have already called my representatives. Are there others to call?
A: Yes, start by calling the 16 members of the Joint Finance Committee who will first introduce the bill on Monday in committee. Even though you do not live in their district tell them that as a resident of the State you think the bill makes fiscal sense for the State and should be approved and sent on to the full legislature for a vote.
The 16 members of the Joint Finance Committee w/phone numbers can be found at this link.
Q: I really do not want to make any calls – What happens then?
The people in Seattle are waiting for their NBA Team. Yes, they really are.
As of July 2nd, 2015, Bucks fans could be ecstatic about the future on-court success of the franchise, after signing the most significant free agent in franchise history, Greg Monroe, not long after re-signing Khris Middleton, drafting Jabari Parker, and drafting Giannis.
As of June 26th, 2008, Seattle Sonics fans could be ecstatic about the future on-court success of the franchise, after drafting Russell Westbrook not long after drafting Kevin Durant. Six days later, the franchise was set to move to Oklahoma City, and Seattle fans had to watch their success being enjoyed by fans in a far away city, instead of their own. Do we in Milwaukee want history to repeat itself?
So, we can let the legislators think we don't care about this issue. We can let their phones go silent. We can let the opponents run around spreading all sorts of doom and gloom nonsense. Don't let that happen!  Make the calls!
Do we want this?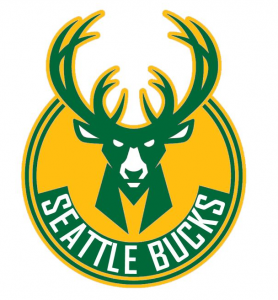 Or future moments like this?
MAKE THE CALLS! DO IT FOR BANGO!
GO BUCKS!
Your SOB Editor